Jimmy Kimmel evacuated following Japan quake and tsunami news
Published: March 15, 2020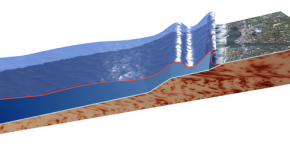 TV host and comedian found himself in the midst of widespread panic after the Japan earthquake struck and news of a 30-foot tsunami emerged. The star was holidaying in the middle of the Pacific at the time.
"I am on an island in French Polynesia, glued to CNN," he tweeted on Thursday night.
By this time Kimmel's fans had clocked on and began to express their concern over his well-being. He posted: "Thanks to those who sent good wishes - this is crazy," and later added "I am now worried others will worry if I don't tweet… we are evacuating the island. dogspeed."
There was no doubt over how scared the star was, as his tweet on Saturday shows: "Finally back home in the United States. and never leaving my house again."
Writing for the Huffington Post, he recounts the moment he found out (not without his usual humour): 'We go back to the room where my computer informs me that an enormous earthquake has hit Japan. I dread what's next. A tsunami warning is issued for the islands of Hawaii. We are in French Polynesia. I begin feverishly scouring the Internet for the words "tsunami" and "French Polynesia" together. At first, all I get back is an article titled: "Matthew McConaughey Says Camila Alves Hikes in Sandals," and as usual he's right, she does. Then I find what I was hoping I wouldn't: "Tsunami Warning for Pacific Area."'
"You've got to be kidding! A tsunami. A tsunami. Is coming. To us!"
The star, who hosts the show Jimmy Kimmel Live on ABC, then goes on to describe how he spent the following 8 hours "lying to my family via email (everything is fine! No, we're not in the path at all), watching the news, tweeting, googling every nine seconds, screaming "where the f*** is Wolf Blitzer?!" at the television, packing, and calling the guy at the front desk."
The guy at the front desk was apparently less than sympathetic and laughed every time Kimmel rang the desk, but 'at 4:30am, the phone in my hut rang and the guy wasn't laughing. We were to be evacuated immediately. "Bring only your valuables!"'
In the meantime, other American celebs were having their own, more detached, experiences and tweeting about them. Katy Perry wrote: "My prayers go out to anyone that is being effected by the disaster in Japan."
Justin Bieber posted: "Japan is one of my favorite places on earth…it's an incredible culture with amazing people. My prayers go out to them. We all need to help."
Of course, Charlie Sheen also expressed his tender sentiments: "Curveball; Warlock edict; pain & devastation in Japan demands us all to dig deep & LOVE THEM VIOLENTLY Dogspeed my cadres of the Far East!"
Click here to read about bizarre Japanese celebrity Hatsune Miku and how Paris Hilton denied entering Japan following a drug conviction.
Images: Wikipedia and Wikimedia Commons