Katy Perry announces her California Dreams tour
Published: January 20, 2021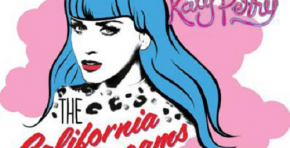 Katy Perry is hitting the headlines yet again today after her announcement yesterday that she is to get on the road. The latest pop darling (in a very long production line of pop darlings) has pleased fans by informing them about her upcoming California Dreams tour.
That is of course not to be confused with California Dreaming as written and recorded by The Mamas & The Papas in the 1960's.
The news came via a live Facebook interview after Perry had been Tweeting all day about a HUGE announcement. Around 7,000 fans tuned in to hear the pop diva deliver the news firsthand, that she will be touring the U.S. and Canada in the summer.
"It's an edible-looking tour with meat and candy," she said. "It'll look like a smorgasbord of them."
Whatever that means.
Perry has also told fans and press alike that she will be employing the creative skills of Mark Ryden and Will Cotton, the two men behind the creation of her portrait on her Teenage Dream album cover. They will be charged with the job of making her set look like something from a Mario video game.
The California Dreams tour starts on June 7th and Mario… Sorry, Perry will wrap up the two week affair at the Prudential Center in Newark, NJ on June 19th.
And that's it. That's all her loyal fans get. A very slim window of opportunity to see their favourite pop icon live before she vanishes behind a veil of Facebook, Twitter and trashy interviews and TV appearances. Long gone it seems are the days when artists toured relentlessly, giving their fans what they deserved for their loyalty.
But no, this day and age the music industry is all about grabbing the money and giving little of value in return. The live music industry is where the money lies for artists these days and no doubt the prices for a ticket to see Perry will be extortionate.
Katy Perry is more interested in revealing the sordid details of her marriage to UK scruff and TV presenter Russell Brand than actually being a proper pop star. Perhaps she should have the good grace to fade into obscurity and pave the way for more willing or talented musicians.
Inadvertently she has down sold her shows by admitting that she can't dance, and seeing as she can't particularly sing either, one has to ask what she's actually going to be doing on this proposed tour. Hopefully the outfit changes (if she manages to keep her clothes on) between every song will be worth the price of the ticket.
What do you think? Is Katy Perry really worth all the fuss or is she just another money spinning pop puppet controlled by the music industry? Leave a comment.
Read about Katy Perry's marriage, the anti-acne campaign she has joined, her dance injury, a tweet to Pink, and the People's Choice awards.
images: musicvl.com, glamourvanity.com