Diets
Find out what diets celebrities are using to lose extra pounds, and which famous people have shared their stories of success after they finally lost some weight!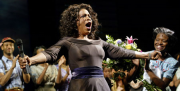 Oprah Winfrey is going vegan for seven days, and taking along 378 of her staff at Harpo for the ride.
Sugar: tastes great but reeks havoc on the system with symptoms such as hyperactivity, general malaise, diabetes, high blood pressure or just plain moodiness. Oh, and sugar makes you fat.
This guide is the start of a gentler approach to weight loss that will eventually move you away from unhealthy eating and have you feeling energised, slim and happy.
Thinking that you can only eat half a grapefruit and the juice of a satsuma, with half a malteser at weekends can seem depressing, for some, so to lose a bit of extra weight and detox all those icky things from your system, consider a small, controlled juice fast.
It's the time of year when most people turn their thoughts to resolutions in a bid to feel better, look better, lose weight or just make a few changes to their life. Detoxing is the way forward.
It's nearing that dreaded time of year where the post-festive season guilt kicks in and we get caught up with the countless thouands in the desperate frenzy to knock off the Christmas kilos and transform our stodgy bodies into the stuff of our dreams. Fast. Now.
A lot of people get caught up with the idea that they need a meat substitute which is all well and good, but let's dispense with that notion, and instead concentrate on putting together a dinner that will taste great and satisfy your appetite, while still maintaining a traditional Christmas feel.
Christmas is almost upon us again which no doubt means last minute shopping for presents (especially by the men), outdoing the neighbours decorations, naff toys from the crackers, and of course - cooking the Christmas turkey.
Thanksgiving, also known as Turkey Day, is as we all know a time to give thanks and celebrate a bountiful harvest. The traditional Thanksgiving feast includes turkey, sweet potatoes, cranberries, pumpkins and more besides.
Google are gearing up for Thanksgiving by celebrating each build up day with a new doodle. Today sees a culinary wonder in the form of Ina Garten recipes.