Get the flow with Ashtanga Vinyasa
Published: October 05, 2020
Vinyasa is a unique style of Yoga in that it creates a flow of movement between poses instead of focusing solely on holding postures for long periods as with more traditional Yoga. It bears a resemblance to Tai Chi and, like the afore mentioned, is a very graceful art form in itself.
Vinyasa means "linking" and the name not only refers to the linking of a series of postures but also of movement and breathing. Each transition is assisted by either an inhalation or exhalation depending on the direction of the flow.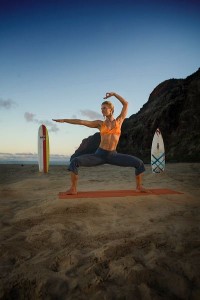 Ashtanga Vinyasa is based around Sun Salutations and is defined by a series of specific poses and breathing patterns which are always carried out in the same order.
There is also a strong spiritual element associated with Ashtanga and focuses it's practises on eight disciplinary elements:
Yama – Morality
Niyama – Purification
Asana – Posture
Pranayama – Breath Control
Pratyahara – Sense Control
Dharana – Intention
Dhyana – Meditation
Samadhi – Contemplation
An Ashtanga Vinyasa session will normally begin with breathing exercises and setting intentions and dedications for the practise, before moving into the physical aspect of flowing movements between postures.
Emphasis is placed on gazing or focusing on a specific point, such as the tips of the fingers, the sky or toes, which aids concentration and helps the body and mind relax into positions more readily.
Sessions close with relaxation and a time for reflection and meditation.
Ashtanga was brought to the fore by Sri K. Pattabi Jois who started teaching it in 1927. The flow through each series of movements produces a lot of body heat and sweating which helps purify muscles and, with better blood circulation, assists the body with detoxification leading to better general health and a leaner, toned physique.
Ashtanga has become very popular in celebrity circles and is practised by such famous names as Madonna, Pink, Lady Gaga, Gwyneth Paltrow and Sting.
Read our coverage about different yoga styles, from Bikram Yoga and Hatha Yoga to Iyengar Yoga.
Images: Ron Sombilon on Flikr, http://commons.wikimedia.org/wiki/File:2007-08-24_ytc_hawaii_5821.jpg
More From Celebrities with Diseases