Celebrities: grammy awards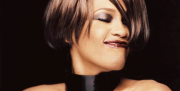 Eighties pop queen Whitney Houston was found dead on Saturday afternoon in her hotel room at the Beverly Hills Hilton on the eve of her appearance at the Grammy Awards.
A judge has ruled that R&B singer Chris Brown no longer has to keep his distance from Rihanna after downgrading the restraining order placed on him as part of his felony assault case.
KCBS-TV Reporter, Serene Branson was set to report live on the Grammy awards, and despite starting brightly she was unable to form words and the broadcast was cut. Reports today claim it was not a stroke.
Once again Bieber fans have behaved like the spoilt, juvenile morons they are by "bravely" attacking the Wikipedia page of Esperanza Spalding using the shield of internet anonymity, after she was listed there for "Best New Artist."