Celebrities: malaria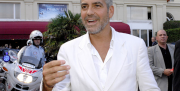 George Clooney has been bringing the plight of refugees to the media and it was during his most recent visit to war-torn Sudan that he contracted malaria.
In her first interview since recovering from Malaria, Cheryl Cole said on Pierce Morgan's ITV1 show Life Stories that the mosquito-transmitted disease left her on the brink of death.
Researchers have found out a new compound that works in mice to clear off malaria parasite in a single dose.
The pop singer has broken her silence about her husband Ashley Cole's cheating and sex addiction
The singer has lost a drastic amount of weight as she continues her battle with the mosquito-borne disease
The singer was taken to a hospital in London after collapsing during a photo shoot over the weekend
Find out more about the mosquito-transmitted disease and learn to identify its symptoms.