Celebrities: Oprah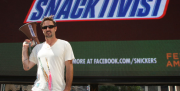 Most of us have our first dabble with booze when we hit our teens. Not David Arquette. In his first televised post-rehab interview, the Scream actor spoke to Oprah Winfrey about his early experiences with drink and drugs.
We all know Jennifer Hudson has lost a significant amount of weight in recent months, dropping from a size 16 to a size 6, but how did she do it?
Oprah-mania has been bubbling over in Sydney, where she has been recording shows for the final season of The Oprah Winfrey Show, but there was a little hiccup when movie heartthrob Jackman attempted to make a dramatic entrance onto the stage.
The singer, who is a former crack cocaine addict, says an intervention staged by his wife and some close friends helped him to get on the straight and narrow.
Michael, 18, committed suicide eight months ago, but after watching Marie Osmond open up in an interview with Oprah about her adopted son, it was clear that she was still struggling to come to terms with his death.
Michael Jackson is sorely missed by his family, especially mother Katherine, who told Oprah that the day her son died was the "worst day of my life".
Portia De Rossi survived off 300 calories per day at the height of her anorexia, the actress has told Oprah.