David Arquette opens up about battle with drugs and alcohol on Oprah
Published: February 24, 2021
Most of us have our first dabble with booze when we hit our teens. Not David Arquette. In his first televised post-rehab interview, the Scream actor spoke to Oprah Winfrey about his early experiences with drink and drugs.
Arquette, 39, was booked into the Betty Ford Center in January this year for emotional and alcohol issues after his estranged wife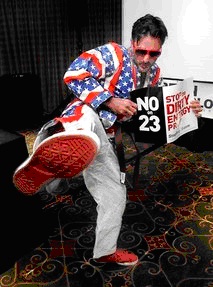 Courtney Cox and his his sister staged an intervention. "I came back from Miami and I had taken a nap and I woke up and Patricia and Courteney were at my bed. I was like, "What are you two doing here together?"
'"Courteney's like, 'Do you mind coming out to the living room for a minute?'" I said, "Sure, let me get dressed." I put on this white outfit and came out. My best friend was there, my business partner and some guy I don't know, and I go, 'What up, turkeys? I guess this is my intervention."'
Rewind about thirty-five years and Arquette is a little boy, four years old. This, said the actor, is when he remembers having his first drink of beer. "I was down in the basement with my dad and beer was there and I just grabbed it and drank it. And I remember that. It's one of my earliest memories.
"I seriously started drinking probably when I was about 12," Arquette continued. "I stole pot from my father when I was eight years old."
During the interview, Arquette also revealed that he would like to get back together with Courtney, who had been [adsense"incredibly supportive" throughout his ordeal. "She's my best friend, and I love her with all my heart," he said.
Read about Arquette's fight for the California climate law, his separation from Courtney Cox, her IVF treatment and their combined victory over smoking.
Images: blogs.chron.com and paper-plane.fr
Posts you might also find interesting: