Chris Medina wows American Idol by singing to his brain damaged fiance
Published: January 27, 2021
Chris Medina last night introduced his brain damaged fiancée to the judges of American Idol.
The 26-year-old Idol hopeful stunned audiences at home and in the studio by performing a heart rending rendition of The Script's "Breakeven" for his wife-to-be Juliana.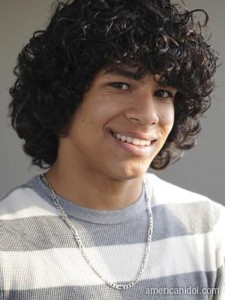 Juliana Ramos was involved in a near fatal car crash in 2009 and her recovery has been a slow and painful one, but last night Medina sang his heart out for her.
Chris, who lives in Oak Forest, Illinois, near Chicago, astounded the judges with his excellent performance at the Milwaukee auditions, which the public got to see for the first time last night.

The story of Chris and Juliana was clearly a moving one and the judges asked Chris to bring his fiancé onstage so they could meet her. The coffee shop worker duly obliged and wheeled her up.
They took it in turns to shake hands, and Steven Tyler of Aerosmith fame told her that she must be the reason Chris's performance was so powerful, and he told her, "It's why he's so good."
Medina was then rewarded by the judges for his display, who sent him through to Hollywood week, and popular opinion is that Medina will continue to do well throughout the contest and its many stages.
Chris and Juliana have been together for 8 years and have been engaged for 2.
He looks after Juliana with help from her mother, and despite not being married yet he is already upholding the values of marriage, honouring his relationship and commitment - 'in sickness and in health'.
'What kind of guy would I be when she needed me the most?,' asked Chris who wrote a song for Juliana when she was hospitalized after the crash in 2009.
You'd be the guy most women dream of meeting Chris.
Please share your thoughts about Chris Medina's performance last night by leaving a comment.
Read about other brain damage related issues like Gabrielle Giffords' recovery, how dark chocolate could help after a stroke, red wine's antioxidants also reduce the risk, and how meningitis can lead to brain damage.
images: poptower.com, bumpshack.com
Posts you might also find interesting: