Celebrities: Oprah Winfrey
It's like finding out that abstinence causes alcoholism or exercise makes you fat or marriage makes you happy.
Eventually when James Frey's book was published, as a memoir, it had a positive effect on millions of people and has no doubt helped influence the recovery and save the lives of many addicts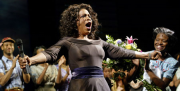 Oprah Winfrey is going vegan for seven days, and taking along 378 of her staff at Harpo for the ride.
Popular country singer Shania Twain, of "That don't impress me much" fame, has married her sweetheart of two years, international businessman Frederic Thiebaud. The couple stepped up to the altar on Saturday for a New Year's Day wedding in Puerto Rico.
John of God is a faith healer who was born in Portugal has become one of Spain's most influential spiritual figures. Now a recognised modern day saint, John of God was born João Cidade in Montemor-o-Novo, Portugal.
Some phobias are stranger than others. Find out more about chiclephobia and Oprah Winfrey's fear of it.
The most famous and celebrated face of American television says it was her rough childhood and sexual abuse past that led her to binge eating and gaining weight, therefore "cushioning" herself against the world.
The name Oprah Winfrey is synonomous with self-help, independance, and grandeur. The woman who achieved so much from such humble beginnings became an unstoppable force many women look up to. But even the most successful, perfect people have their flaws. Read about Oprah Winfrey's medical issues here.