Alicia Silverstone pregnant with first child
Published: January 14, 2021
The Hollywood baby boom continues! The 33-year-old Clueless actress and her husband of six years, Christopher Jarecki, are expecting their first child.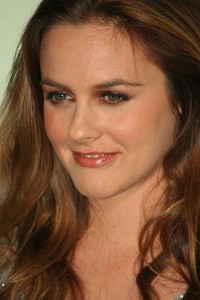 "I've been wanting to have a baby since I was two years old — I'm destined to be a mother," she told PEOPLE in April last year.
Alicia tied the knot with Christopher, the lead singer of S.T.U.N.,  in an eco-friendly wedding in a beachfront ceremony in Lake Tahoe. The bride made her barefoot entrance down the aisle to Imagine by John Lennon and later, together with guests, the newly weds danced to Beatles songs well into the night.
The mom-to-be took to her website, The Kind Life, to announce her pregnancy:  "Hi everyone – you may have already heard, but I wanted to tell all of you Kind Lifers myself. Christopher and I are expecting a baby later this year, and I couldn't be happier!"
"I'm excited about documenting this time in my life, and sharing all of my experiences with  you. I will definitely be posting tons more blogs about pregnancy, and can't wait to hear your feedback.
"Thank you for being such a kind and supportive community. I feel truly grateful for each and every one of you, and am excited to share this special time in my life with this wonderful community!"
Alicia has written a vegan cookbook called
The Kind Diet
, and speaking about her website she says: "
The Kind Life
is an interactive extension of my book, 'The Kind Diet', which is about living your healthiest and happiest life to the fullest, while taking care of mama Earth at the same time!"
Make sure to visit her website for some inspiration and to learn more about "healthy, green, eco friendly living".
If you're interested in ordering a copy of The Kind Diet, click here.
Other stars expecting a baby this year are Selma Blair,  Natalie Portman, Kate Hudson, Victoria Beckham, Owen Wilson's girlfriend  Jade Duell, Penelope Cruz and Marion Cotillard.
Images: PR Photos and Wikimedia Commons
Posts you might also find interesting: