Brad Pitt had mild viral meningitis
Published: April 23, 2020
After returning from a trip to Ethiopia in 2005, Brad Pitt started to complain of symptoms similar to the flu. After checking himself Los Angeles hospital Cedars-Sinai Medical Center on a Monday night in early July, he found out the diagnosis was far worse: he was in fact suffering from viral meningitis.
After spending two days in hospital, Brad was released to recover at home.
"The actor is at home and doing well," publicist Cindy Guagenti says in a statement to PEOPLE.
A viral case of meningitis is rarely fatal or seriously dangerous to individuals who have normally functioning immune systems. Meningitis, essentially, is when the tissues covering the brain and spinal cord become inflamed and swell up. Most patients recover from this illness within a week, the Center for Disease Control reports.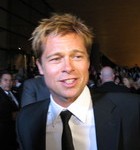 Whether or not the 41-year-old actor contracted the illness while he was in Ethiopia, in unknown. He was there in the summer of 2005, after having separated from ex-wife Jennifer Aniston earlier that year, to pick up Angelina Jolie's adoptive child.
Other celebrities who have contracted viruses include Marilyn Manson and Rupert Grint, who battled swine flu.
Images: http://commons.wikimedia.org/wiki/File:Brad_Pitt_2007.jpg, by chris_natt; http://commons.wikimedia.org/wiki/File:Brad_Pitt_palm_film_festival.jpg, maggie
Posts you might also find interesting: