Carl Gardner, the Coasters front man dies aged 83
Published: June 14, 2020
The original frontman of R&B group the Coasters, Carl Gardner, has died at the age of 83. The singer had been battling with congestive heart failure and vascular dementia and according to his wife Veta, he passed away on Sunday at a hospice in Port St. Lucie, Florida.
"He loved his singing," his wife of 24 years told reporters, "that was his whole life."
The Coasters never stopped playing since their formative years in the 1950's and although the line-ups changed over the passing decades, Carl Gardner held the rights to the band's name and upon his retirement in 2005 he passed the mantle of lead man to his son, Carl Gardner Jr.
"He was such a humble person," said Veta, "if you met Carl, you would never know he was famous."
Carl Gardner's most notable achievements include his induction into the Rock and Roll Hall of Fame in 1987, along with the Coasters with whom he penned a series of hits during the late 1950's. The list contains such memorable titles as Searchin', Poison Ivy and Young Blood. In 1958 the single Yakety Yak pitched up at No. 1 on the Billboard Hot 100 and also spent a massive seven weeks at the top of the rhythm and blues charts.
Gardner formed the band in 1955, some five years after moving to Los Angeles from Tyler, Texas where he was born.
In all the Coasters racked up a total of 14 songs in the R&B charts, over half of which crossed over to the mainstream Top 40, this according to the Rock and Roll Hall of Fame. Their best songs were written by Jerry Leiber and Mike Stoller, a partnership which produced songs for Ben E. King and drew covers by Elvis Presley among other famous names.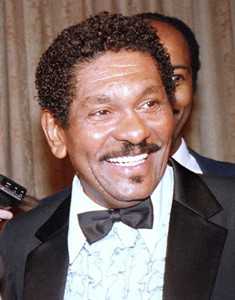 Other bands to cover the Coasters' hits include the British Invasion crowd of the 1960's in the shape of The Beatles, The Who and the Rolling Stones.
Carl Gardner also spent much of his time advocating for legislation against groups using established band names such as the Coasters, The Drifters and The Shirelles for their own use; a Florida court eventually passing the bill in 2007.
Despite his ventures outside of the Coasters, it is his songs and pioneering R&B music that he will best be remembered for. His funeral service is set for next week in Port St. Lucie.
Please leave a comment with your thoughts on Carl Gardner's passing.
Read about other famous singers who have passed away recently like Gerry Rafferty, Gary Moore and Les Paul.
images: 123people.co.uk, rollingstone.com, celebedge.ca, spinner.com
Posts you might also find interesting: