Michael Douglas on road to recovery and planning a wedding vow renewal ceremony
Published: November 23, 2020
When photos of Michael Douglas looking fragile and gaunt after his gruelling eight week chemotherapy treatment were published, people were worried that his health had taken a turn for the worse and that he wouldn't be strong enough to recover.

But Michael has always insisted he "will kick this thing" and with good reports coming in from all sides, he looks set to do just that. At a red carpet event on Friday, Kirk Douglas told ET that his son was starting to feel feisty again and that he was also getting his appetite back again.
We recently reported that the actor was put on a fat-laden diet to bulk up again after dropping to a startling 140 pounds and recent pictures seem to confirm what his legendary father was saying on the weekend.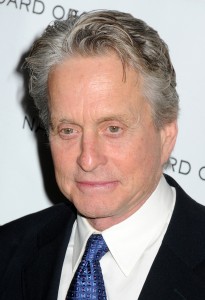 "The fact that he is gaining weight means that he is likely in the recovery stage," Dr. Kent Holtorf told Star Magazine about the 66-year-old actor, who was diagnosed with stage 4 throat cancer during the summer.
"The extra pounds have smoothed out some of the wrinkles so he is looking younger and healthier.
"He has pigment in his skin which is a great sign that he is eating more and feeling better."
With all these encouraging health updates, fans can be put at ease that the Oscar-winning actor is on the mend.
And there is more uplifting news. Michael Douglas and his wife Catherine Zeta Jones celebrated their tenth wedding anniversary this month and word is that now they are planning a wedding vow renewal ceremony on New Years Eve.
"Both he and Catherine know this marriage is forever, so they've decided to renew their vows. They fall deeper in love every day," a source told the National Enquirer.
"They're going to have an intimate ceremony. It might be exactly what Michael needs to give strength, something to look forward to that will lift his spirits."
Things are looking good for the Hollywood star!
CAnother celebrity who has battled throat cancer is George Harrison of the Beatles.