Celebrities: cancer
Legendary guitarist Bert Jansch has lost his battle with cancer at the age of 67. The musician, hailed by some as the British Bob Dylan, was a leading figure of the British folk revival in the 60s and a founding member of Pentagle. Born in Glasgow on 3 November 1943, he released 23 solo albums, the last of which, The Black Swan (2006), featured collaborations with Beth Orton and Devendra Banhart.
Natural foods have been engineered by nature to feed us. A combination of fruits, vegetables, nuts and seeds is all the human body needs in order to function and function well. Sorry McDonalds, go murder someone else.
Just as women have varying breast sizes, they also have different chances of developing breast cancer and each case should be treated accordingly, says new research that questions biannual mammograms for over 40s.
Catherine Zeta Jones has talked frankly about her bipolar disorder diagnosis.
If breakfast cereal is the healthy start to the day, packed with vitamins and other beneficial elements that keep us healthy and svelte, then how come A-listers like Gwyneth Paltrow and Madonna avoid them like they were a plague of rabid locusts intent on eating the eyeballs of their young?
A recent study of obesity in the US has revealed some startling trends with the overall rate across the country increasing by 4% since a previous study in 2008. The worst culprits are West Virginia where 33.5% of adults are now clinically obese – that's one in every three people.
The world has lost another comedic great with the passing of Len Lesser, best known for his recurring role as Uncle Leo on Seinfeld. He died from cancer-related pneumonia.
Maria Schneider, The French actress who played Marlon Brando's lover in the Bernardo Bertoluccis's controversial 1972 film, has died aged 58 "following a long illness".
British stage and screen actress Susannah York has died at the age of 72 after losing her battle with bone marrow cancer.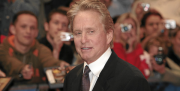 Five months after being diagnosed with late-stage throat cancer, Michael Douglas has revelaed that his tumor is gone and that he is confident that he has beaten the cancer.