Bret Michaels remains in intensive care
Published: April 26, 2020
While Bret Michaels remains in a critical condition in the intensive care unit, doctors are continuing to test what is causing the bleeding that has led to his brain hemorrhage. The Poison singer was rushed to emergency on Thursday night after complaining of a severe headache, like he'd been "hit in the head with a baseball bat over and over again," a friend tells PEOPLE. According to the same source, "Bret is still in ICU. He still has the headache and is heavily sedated."
RadarOnline.com published a statement from the singer's official Facebook page, in which it says Bret is also suffering from blurred vision. It reads:
"Everyone at Michaels Entertainment would like to thank all fans and friends for their continued thoughts and prayers through this difficult time.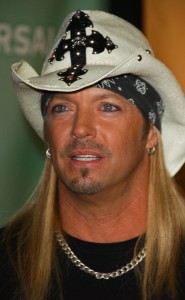 "At this point Bret remains in ICU in critical condition. He is under 24 hour doctors care and supervision. We are hopeful that further tests will locate the source of the bleeding, which has still not been located."
Bret recently had an emergency surgery to remove his appendix. Bret also suffers from type 1 diabetes.
Read our complete coverage on Bret Michaels.
What is type 1 diabetes?
Other celebrities who suffer from type 1 diabetes include Nick Jonas.
Images: PR Photos
Posts you might also find interesting: