Bret Michaels has emergency surgery
Published: April 13, 2020
Bret Michaels was rushed to a San Antonio hospital on Sunday night after complaining of flu-like symptoms and stomach pains, reports say. The Poison front man was then rushed into an emergency surgery at 1am on Monday morning, after doctors determined the singer and 'Celebrity Apprentice' contestant was suffering from acute appendicitis.
A press release, quoted by PEOPLE states that Bret "remains in hospital, is doing well and is beginning the recovery process".
The 47-year-old will need some time to require from the operation, his rep told Us Magazine: "Michaels, who has been known to perform under extreme conditions that would make most performers cancel, will unfortunately have no choice but to reschedule some of his April tour dates."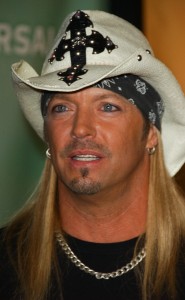 Bret is certainly no stranger when it comes to medical woes: he is currently a contestant on 'Celebrity Apprentice' for juvenile diabetes, which he was diagnosed with as a child. He is seen giving himself insulin shots every day, and reportedly checks his blood sugar levels four to six times a day. He claims he's also been hospitalized several times because of his diabetes .
Read more about Bret Michaels' battle with type 1 diabetes.
Find out more about type 1 diabetes.
Other celebrities who have diabetes include Nick Jonas of the Jonas Brothers.
Images: PR Photos
Posts you might also find interesting: