Bryant Gumbel "free and clear" after lung tumor op
Published: December 02, 2020
TV journalist Bryant Gumbel said he has been given the all clear after having an operation to have a malignant tumor and part of his lung removed last year.
"I'm still doing well," he told People at the UNICEF Snowflake Ball Tuesday in New York City. "Doctors tell me I'm free and clear, so I hope for better times."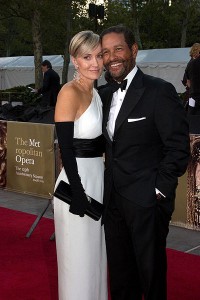 In December 2009, Gumbel shocked a live audience by announcing that he had just had the surgery. The 62-year-old talked about his health crisis while filling in for Regis Philbin on the Live with Regis and Kelly show.
Gumbel went under the knife two months prior to this announcement. He had kept it quiet from everyone, including HBO bosses on his own show Real Sports.
"They opened up my chest, they took out a malignant tumor, they took out part of my lung and they took out some other goodies," he said on Live with Regis and Kelly.
According to People, Gumbel looked thin as he walked down the red carpet on Tuesday with his wife Hilary, but wore a big smile nonetheless.
"I've got very little to complain about. I'm doing well," he told the magazine.
Bryant Gumbel is best known for his 15 years as a co-host on NBC's The Today Show. After leaving the show in 1997, he moved on to CBS, where he hosted various shows before becoming the co-host of the network's The Early Show in 1999. He left in May 2002 to concentrate his efforts on HBO's Real Sports with Bryant Gumbel, a show he has hosted since 1995.
Other TV personalities with health problems include Keith Sutherland, Dick Clark and Regis Philbin.
Posts you might also find interesting: