Mickey Rourke needed plastic surgery to mend his face
Published: September 15, 2020
"The Wrestler" star and boxer Mickey Rourke has long since been inducted into the celebrity plastic surgery disasters hall of fame, along with the likes of Michael Jackson, Jacqueline Stallone, Donatella Versace and many others.
But Rourke claims that his repeated decision to go under the knife had nothing to do with vanity: "Most of it was to mend the mess of my face because of the boxing", he said. The catalogue of injuries he acquired from the sport ranged from cuts and bruises to a broken cheekbone and nose: "I had to have cartilage taken from my ear to rebuild my nose and a couple of operations to scrape out the cartilage because the scar tissue wasn't healing properly. That was one of the most painful operations, but the worst was haemorrhoids."
Rourke became a professional boxer in 1991, after his established Hollywood career came to an end due to his unstable behaviour. The actor revealed to The Daily Mail newspaper that he was "out of control and did not think the party was going to end. I could stay in any hotel, buy anything I wanted - I once bought six Cadillacs for cash and then gave them all away". Furthermore, Rourke was known to cause trouble in his priveleged neighbourhood in Beverly Hills: "My mansion was like something from 'Halloween III' - Elvis on acid. The neighbours were moving in and out almost monthly."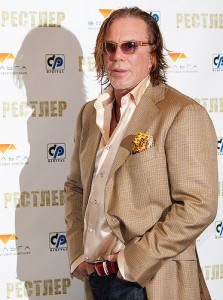 Rourke put off his Hollywood comeback due to a fear of work overload and slipping back into old habits. And sure enough, his return to the big screen through a leading role in "The Wrestler" caused a stir in Hollywood. The 52-year-old's performance won him a Golden Globe and a nomination in the "Best Performance" category. He is now working on several new films, including "Iron Man 2".
But things are not exactly what they used to be. Now, Rourke looks more like Jocelyn Wildenstein than a Hollywood heart-throb. "I went to the wrong guy to put my face back together", he admits. Among the apparently essential procedures to repair his face were multiple nose jobs, cheek implants, at least one facelift, a brow-life and lip enhancement. Website Make Me Heal quote plastic surgeon Dr.Paul Nassif: "It is difficult to reverse any of this, except to put in smaller cheek implants or remove and revise the facelift to change the vector of pull so that it's not so surgical. However, the eyes and lips can't be reversed." So, let's hope Mickey Rourke's on-screen performance continues to eclipse his botchy face.
Other celebrities who have had plastic surgery include Pamela Anderson, Heidi Montag, Dita von Teese, Megan Fox, Demi Moore and Sharon Osbourne.
Image attribution: Wikimedia File:MickeyRourke08TIFF.jpg, http://www.flickr.com/photos/antonb/3346606201/
Posts you might also find interesting: