Sex addict Ashley Coles' new girlfriend: "This is for real"
Published: December 20, 2020
Footballer Ashley Cole is back on the dating scene, and adamant that he is ready to move on from his divorce. Cheryl Cole's ex has been spotted with former Playboy model Kayla Collins, who is said to be smitten with the love rat.
"This is for real," the Daily Mail cites Collins as saying to the People. "We have kindled a relationship. Ashley is a lovely, lovely man and I hope that this works out. It isn't just a one-off, we are both hoping that this will be the real thing. I've got my fingers crossed that this will all work out."
Seemingly oblivious to the Chelsea player's reputation, she said: "I've heard he gets a hard time over here but he is a warm, funny, kind man. I think he deserves a second chance."
Even more surprising than this blind trust in a notorious serial cheater, is Cheryl Cole's apparent approval of it.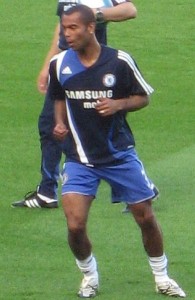 'Cheryl and Ashley are still friends, they probably ­always will be. But there is no chance of their romance being reignited so she's pleased Ashley has moved on,' a source close to the star told the Daily Mail.
Kayla Collins rose to stardom in the UK after her appearance alongside other Z-list celebs in reality TV show I'm a Celebrity, Get Me Out of Here. Among the glamour girl's many daring tasks on the program was holding a variety of live insects in her mouth, The Sun reports.
After being voted off the show earlier in the month, the 23-year-old said: "I can't wait to meet some British guys because they're really cool…I like guys that are bigger than me – a sporty guy."
Looks like she got her wish sooner than she thought! Meanwhile, Ashley seems to have turned on the charm to full capacity:
"Ashley said he has moved on from Cheryl Cole," Collins reportedly told the People. "He told me that it's me that he wants now which was a lovely thing to hear. He told me I was beautiful."
The 29-year-old bombarded the booby blonde with texts, according to the Mail, after meeting her at a bash in a London nightclub. He is understood to have arranged to meet up with Kayla again at a hotel on Thursday night, where they were snapped together for the first time.
"He has had a rough time ­recently," Collins said. "I hope I can cheer him up. We have great times together. Maybe he could be The One."
Best of luck Kayla!
Click here to read more about Ashley Cole cheating on Cheryl Cole and Cheryl Cole's battle with malaria.
Other celebrities who have battled sex addictions include Tiger Woods, Charlie Sheen and Jack Nicholson.
Images: Wikimedia Commons
Posts you might also find interesting: