Zac Efron moves on - to Teresa Palmer
Published: February 05, 2021
Hearts will break all across the world. Including Vanessa Hudgens', who was nowhere in sight when her heartthrob ex-boyfriend Zac Efron stepped out onto the red carpet with a new lady on his arm – actress Teresa Palmer.
This appearance has once and for all quashed rumours of a possible reconciliation between 22-year-old Hudgens and Efron, 23, who met on the set of High School Musical and dated for four years.
Efron took his new date to the screening of her upcoming film Take Me Home Tonight on Thursday.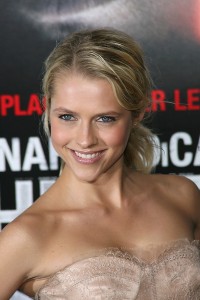 "There was definitely some hand-holding," a source tells People of the couple at the event's after-party at L.A.'s Pink Taco restaurant. "The two ate together and seemed really engaged in conversation. They seemed really into each other…They weren't trying to hide their affection at all, even though they knew people were watching them."
According to Perez Hilton, that was just the beginning of the night. The celeb blogger claims Efron and Palmer later left the party together and headed over to West Hollywood's Voyeur, where they were seen "getting handsy" with each other, dirty dancing and even making out.
Another source told People that Efron "gave high-fives to his friends" and watched the barely dressed go-go dancers "slide up and down the wall" with "a huge smile on his face."
"Zac chatted with Teresa for awhile," the source added. "She leaned in close so she could hear over the music [while Zac was] smiling and slightly flirting with her. There was no overt PDA, but he was not shy about giving her leg the occasional touch."
While Zac is out having fun with an attractive blonde, Vanesssa Hudgens has chosen to focus more on her career. "It's going to be a very, very busy year," she said in an interview with People. "I have three movies coming out in the next year, so I'm excited to see what the future is going to hold."
The Disney star also said of her current relationship with Zac Efron: "We're good."
Let's hope the news of his bid to move on from their break up does not stir any unhappy feelings.
Click here to read more about Zac Efron and Vanessa Hudgens' split and Zac Efron's transformation for a role as a marine.
Click here to read more about fellow Disney star Demi Lovato and the sex tape rumours connected to her and her subsequent stint in rehab.
Images: PR Photos
Posts you might also find interesting: