Zsa Zsa Gabor breaks hip
Published: July 18, 2020
Zsa Zsa has undergone surgery on her hip after breaking it. According to reports, the 93-year-old actress and former beauty queen fell out of bed and broke her hip.
Her current husband Frederic Prinz von Anhalt claims Zsa Zsa fell out of bed accidentally on Saturday night when trying to reach for the phone. Prince Frederic immediately called paramedics, who took the actress to UCLA Medical Center in Los Angeles.
"She's in the emergency room," CNN quotes Prince Frederic as saying. "She has a broken hip, and they have to operate on her. It's a complicated thing. It was an accident. And she is not that young anymore."
Zsa Zsa Gabor is described by her publicist as being an intelligent and hilarious woman.
"She has an active mind. She's very bright. She's funny. She always makes me laugh whenever I talk to her," John Blanchette tells CNN.
While still having an active mind and a young and vivacious personality, her body is tellingly getting older. At 93 she isn't the youngest anymore, and a car accident in 2002 has left Zsa Zsa pretty much confined to a wheelchair. She also suffered a stroke in 2005.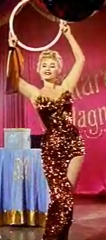 "Her body is failing her," her publicist adds.
According to gossip website TMZ, Zsa Zsa was watching 'Jeopardy' at the time of the fall.
"My wife is a fighter she will be ok!" Prince Frederic tells TMZ.
Hungarian-born Zsa Zsa Gabor is most famous for movie roles in films like 'Lili' and 'The Story of Three Loves'. She is also a famous socialite and beauty queen. Zsa Zsa has been married a whopping nine times, and has been Prince Frederic's wife since 1986.
Other celebrities who have recently been in hospital include Joe Perry, Pink, Dean McDermott, Katy Perry and  Cheryl Cole.
Images: Wikimedia Commons
Related Posts