Celebrities: hawaii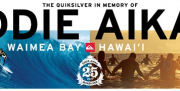 Waimea Bay, Oahu, HAWAII, is the setting for the 2011 "In Memory of Eddie Aikau" event to be staged by Quicksilver between January 17th, and January 20th.
On Friday the 42-year-old Little Fockers star and his girlfriend Jade became the proud parents of a baby boy, just days Owen revealed that he revealed that there was a little one on the way.
Sadly the curtain has come down on James MacArthur, famous for his role as "Danno" in the original Hawaii Five-0, who died on Thursday aged 72.
The Australian born triathlete is hoping that come Sunday he will have claimed his 3rd successive Ironman Triathlon World Championship title.
One of Google's first 10 employees and definitely a celebrity in the search engine business, Matt Cutts has somehow found the time to put in the gruelling hours to compete in a triathlon despite his hectic workschedule.