Quicksilver hopeful big waves will come for Eddie Aikau event
Published: January 20, 2021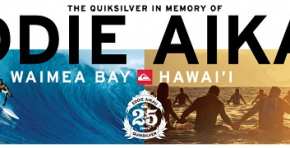 Waimea Bay, Oahu, HAWAII, is the setting for the 2011 "In Memory of Eddie Aikau" event to be staged by Quicksilver between January 17th, and January 20th.
Event organizers are hopeful that forecasts of an extra large swell hold true, to maintain the tradition of honouring Eddie Aikau. The event requires 'Eddie' sized waves, 20 foot plus, for surfers to rampage and ride the crests of the aquatic mammoths as Eddie Aikau, a famously daring surfer and lifeguard from Hawaii, used to do.
Eddie Aikau was born May 4th, 1946 and is a celebrated surfer to this very day. His achievements in the surfing world are legendary, including awards like the Duke Kahanamoku Invitational Surfing Championship which he was awarded in 1977. He was the first lifeguard at Waimea Bay in Hawaii and during his time as such he saved many lives from the clutches of battering waves and swirling ocean swells.
His life was short lived but full of adventure and excitement, both of which led to his untimely (assumed) death. In 1978 Eddie Aikau volunteered for a 30 day, 4000km journey set up by the Polynesian Voyaging Society; a trek that followed the routes taken by Polynesian migrants between the Hawaiian and Tahitian island chains.
The dual hull touring canoe in which he travelled encountered a problematic leak and the vessel capsized some 12km south of the island of Molokai.
Aikau ventured out on his surfboard to find help on the island, removing his life jacket as it hindered his paddling on the board. Although the rest of the crew were rescued, Aikau was never seen again and his body was never recovered. It would appear he went back to the ocean from which he was born.
The Quiksilver "In Memory of Eddie Aikau" is a one-day big wave invitational event staged at Aikau's Waimea Bay. The last time it went ahead was on December 8th, 2009 during which time 20-25 foot waves were ridden by surfers from all over the world. Despite a 26 year history the event has only been able to take place 8 times.
The day marks a tribute to Eddie Aikau, one of the greatest, bravest surfers ever to live. He pioneered big wave riding and inspired many others, including a Guiness advert which depicted horses crashing atop sea crests as surfers battled with the waves.
George Downing, contest director of the Quicksilver "
In Memory of Eddie Aikau
" invitational said, "The system generating the surf is definitely gigantic and certainly as strong as predicted, covering roughly 18,000 square miles of the north Pacific," and with a word of caution he continued, "But up to now, the strongest winds generating the open ocean swells have not been aimed at Hawaii. This can change as the system passes the dateline, so we will have to be patient."
Quicksilver have created an iPod app which lets you follow the progress of weather patterns related to the event.
Please share your thoughts on the Quicksilver "In Memory of Eddie Aikau" event by leaving a comment.
Read about other exceptional individuals like Lance Armstrong, Clayton Treska, Shalane Flanagan, TJ Lavin, Matt Hughes, Haile Gebrselassie and Craig Alexander.
images: wikipedia, quicksilver,