TJ Lavin making a great recovery
Published: December 16, 2020
TV Presenter and Pro BMX star TJ Lavin is making great strides in his recovery since a horrendous crash in October. The rider is spending much of his time at home and is still in considerable pain, but the signs are promising.
Tim "Fuzzy" Hall, close friend of Lavin's and Pro dirt BMXer said: "He's kicking butt. When I talk to him, he's all there: memory and everything. He's the same old TJ."
"He's in major pain with his wrist though. TJ always jokes around, and he said something like, "Now I know what it's like to put my hand in front of a train and have it run over. That's how much pain I'm in," added Hall.
"When I just spoke to him, he was at the doctor having his wrist examined."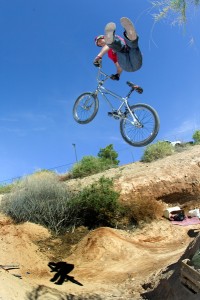 Lavin's crash happened during the Dew Tour Championships on 14th October and resulted in a broken wrist, an orbital fracture (the bone around the eye socket), swelling and bleeding around the brain.
Lavin stayed in a medically induced coma for nigh on a week, but his recovery since has been nothing short of miraculous, and his doctors are confident he will make a full recovery.
A fundraiser was organised in Vegas by the action sports community and 100% of the money raised by donations went towards aiding Lavin and Ty Pinney, another injured BMXer.  Pinney suffered similar head injuries to Lavin and is still in rehab, making a slower recovery.
The fundraising event took place on 3rd December at the Vanity Nightclub, Hard Rock Hotel and Casino, Las Vegas, and was hosted by UFC President, Dana White.
Hall revealed his plans prior to the event by saying: "I'm in Hollywood right now, but we're going to Vegas tomorrow for T.J.'s benefit," and he was keen to point at that the event wasn't all about Lavin, "TJ is really concerned about Ty Pinney. That's a big deal to TJ It's not just TJ's fundraiser, it's for Ty as well."
"TJ has a big heart, and since he's been out of the hospital, he's been worried about Ty all the time."
When healed, Lavin will resume his TV duties, hosting the "Real World/Road Rules Challenge" show on MTV, although doctors have told him to keep off the bikes for a full year.
Please share your thoughts on TJ Lavin's recovery by leaving a comment.
Other stars who have overcome injuries or illness include Lance Armstrong, Clayton Treska, Scott Hamilton and Shalane Flanagan.
images: celebrific.com, vitalbmx.com
Related Posts