Ironman Craig Alexander aims for the triple
Published: October 09, 2020
The Australian born triathlete is hoping that come Sunday he will have claimed his 3rd successive Ironman Triathlon World Championship title. A real buzz is surrounding the big event which takes place in Hawaii this Saturday. The triathlon sees competitors swim 3.8km, cycle a staggering 180km before finishing off with a 42.4km marathon run.
Craig Alexander, 37, has won the championship for the past 2 years running but knows he faces stiff competition from the likes of Chris Lieto and 2007 winner Chris McCormack.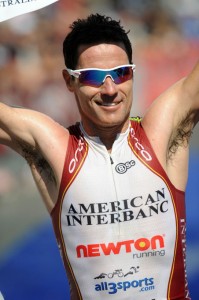 Ironman.com commentator Paul Huddle believes that despite continued improvement Alexander will finish behind Chris Lieto. In an interview on ironman.com Huddle said, "Alexander is the obvious pick," but he continued, "Of all the guys over the years Chris has shown the combination of being the most professional and determined to improve upon his weaknesses. Everyone says they want to improve their weakness, but most just give lip service to it. Chris has actually done it."
But Lieto has that extra incentive too after his foot was broken in 50 places when a friend accidentally drove over it. Doctors told him the foot was so badly damaged he would never run again.
That diagnosis provided him with a strong impetus to prove the medical officials wrong. He threw himself into rehab and admits he did more physical work than advised but while he still has scar tissue from the injury it is significantly less than it would have been if he'd rested the foot.
Since then the 38 year old has won 3 Ironman triathlons, 2006 in Japan, 2005 in Canada and 2002 in Wisconsin, taking part in 32 events.
Whether he can topple Alexander remains to be seen as the defending champion has the possibility of making it 3 wins in a row, but whatever the result it's going to be a fascinating competition between 2 very strong willed athletes.
Let us know who you favour to triumph in this year's competition.
Read here about how to avoid triathlon troubles and train safely.
Images: http://triathlon.competitor.com/files/2010/06/DEL_5027.JPG, http://triathlon.competitor.com/files/2010/06/DEL_5027.JPG
Posts you might also find interesting: