Diets
Find out what diets celebrities are using to lose extra pounds, and which famous people have shared their stories of success after they finally lost some weight!
If obesity is a disease of the body and society, then a by-product of this modern sickness is the frantic drive to get a 'safe' weight loss pill on the market. The latest case to come to light is that of Sensa Products.
Okay so the big bad day is behind us and traditionally Ash Wednesday sees the start of a fast which ends on Easter Sunday. If you are serious about trying a fast, perhaps you could ease yourself into it with a raw vegan juice fast.
The Queen of soul is looking slimmer and healthier than she has in many years — much to the surprise of her fans, who for months have been led to believe that she is suffering from incurable pancreatic cancer. In a recent interview, Aretha Franklin sheds some light on how she is shaping up.
On the red carpet a trim and toned physique is the norm. But for movie roles, actors are often required to subject themselves to extreme body transformations, shedding or gaining a significant amount of weight and devoting themselves to months of physically gruelling training.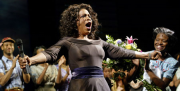 Oprah Winfrey is going vegan for seven days, and taking along 378 of her staff at Harpo for the ride.
Sugar: tastes great but reeks havoc on the system with symptoms such as hyperactivity, general malaise, diabetes, high blood pressure or just plain moodiness. Oh, and sugar makes you fat.
This guide is the start of a gentler approach to weight loss that will eventually move you away from unhealthy eating and have you feeling energised, slim and happy.
Thinking that you can only eat half a grapefruit and the juice of a satsuma, with half a malteser at weekends can seem depressing, for some, so to lose a bit of extra weight and detox all those icky things from your system, consider a small, controlled juice fast.
It's the time of year when most people turn their thoughts to resolutions in a bid to feel better, look better, lose weight or just make a few changes to their life. Detoxing is the way forward.
It's nearing that dreaded time of year where the post-festive season guilt kicks in and we get caught up with the countless thouands in the desperate frenzy to knock off the Christmas kilos and transform our stodgy bodies into the stuff of our dreams. Fast. Now.