Matthew Perry and his battle against addictions
Published: February 05, 2021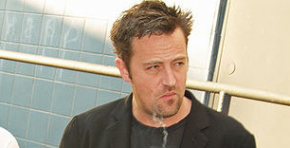 Known for his performance in one of the world's most popular sitcoms, 'Friends', Canadian-American actor Matthew Perry has overcome his obstacles with addictions. He launched his career in 1980s but didn't gain recognition until 1990 with his guest appearances in 'Beverly Hills, 90210', 'Sydney' and 'Home Free'. The blockbuster sitcom 'Friends' skyrocketed his career, soon making him one of the most popular actors in the United States. Several movie projects followed, including 'Fools Rush In', 'Serving Sara' and 'The Longest Yard'. Perry, due to his excellent comic timing won many nominations including Emmy, Golden Globe and American Comedy Awards.
His career hit a snag after Perry began addicted to painkillers following a jet skiing accident; a time during which, Perry admits, he was consuming 20 to 30 pills a day. He entered rehab in 1997 for his addiction to Vicodin, and soon got his life back on track. After his stint in rehab, though, it became apparent that Perry was an alcoholic. After being hospitalized in 2000 for pancreatis, as a result of his immense consumption of alcohol, Perry entered the Promises Center in 2001.
The Promises rehabilitation center helps addicts to recover and re-establish their lives. The center pioneers in compassionate, comprehensive and the best drug and alcohol rehabilitation. With proper guidance, treatment and support, the team of professionals at the Promises offer the best 12-step treatment program. The world famous center has opened its doors for celebrated faces including Britney Spears, Diana Ross, Ben Affleck and Robert Downey Jr.
He noticeably lost weight following the treatment. The instigator for Perry's addictions was reportedly the immense success 'Friends' enjoyed. A relatively unknown actor, Perry was catapulted to international fame, and was not able to deal with it. He quickly recovered with the guidance and support of the Promises centre and made a comeback with same enthusiasm, wit, comedy, passion and the will power.
Other celebrities with addictions include Johnny Cash, Drew Barrymore, Liza Minnelli,Lindsay Lohan and Mickey Rourke, to name only a few.
Image: http://commons.wikimedia.org/wiki/File:Matthew_Perry_by_David_Shankbone.jpg
Related Posts