Child pornography allegations: advertisers pull our of MTV's controversial Skins show
Published: January 23, 2021
Is MTV's new drama Skins child porn? This is the question being hotly debated in the blogosphere.  And amid concern that the controversial series, rife with teen sex and drug abuse, is running afoul of child porn laws, advertisers Wrigley, General Motors and H&R Block have followed Taco Bell's lead and pulled out of Skins.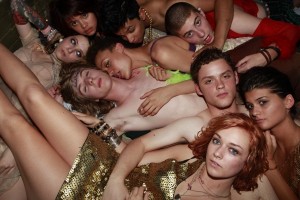 "Wrigley has decided to suspend any advertising during MTV's 'Skins' as it is never our intent to endorse content that could offend our consumers. Any ads that previously aired during the show were part of a broader advertising plan with the network," the company said in a statement.
The Parents Television Council, which has 1.3 million members, has labelled the show as "the most dangerous program ever for children." In the first episode alone, the PTC counted  — " in addition to the sexual content on the show involving cast members as young as 15″ — 42 depictions and references to drugs and alcohol.
MTV is now fretting that there will be some severe legal repercussion and has already edited out some of the more explicit content from future episodes. However, Ian Friedman, an attorney specializing in  computer-based sex offenses, told FOX411: "While the images that are portrayed on television may be considered legal, that may not be the case for the edited footage. If that actor is underage and under the age of consent, possessing that raw footage may be problematic."
For all the critics out there, there are people insisting that Skins is a reflection of real life.
Jessica Bennett from Newsweek, for example, told CBS News: "
Real kids have sex, real kids get pregnant, real kids drink, they experiment with drugs, many of them struggle with eating disorders, and what we're seeing in Skins is a lot of things that kids can relate to."
Members of the cast have also spoken out. James Newman, who plays Tony, said: "Things like this certainly happen [in real life]. I don't think they necessarily happen with the frequency that it happens on Skins, but it's TV and we want it to be entertaining and it helps from a standpoint on sex and drugs. I think as far as relationships the friends have with each other and the emotions, that stuff is dead-on, spot for spot what we went through in high school. Any time you see sex and drugs on Skins, it's about the story. It's never that for the sake of that."
Has MTV gone too far or are things being blown out of proportion? Let us know what your take is on the sex and drug-fuelled series by leaving a comment.
Images: thegovideo.com and loco-luke.blogspot.com
Posts you might also find interesting: