Peter Andre rushed to hospital
Published: November 27, 2020
Peter Andre was forced to cancel a sell-out concert last night after being rushed to hospital with "excruciating" stomach pains.
According to Sky News, the star's manager, Claire Powell, said she was "very worried" about him.
"At present we do not know what is causing him to be in so much pain," she said. "Peter is terribly disappointed that he is unable to perform at tonight's sold out opening night…At present he is being monitored closely and being kept in for extensive tests and scans."
Andre was due to perform the first gig of his new tour at the Plymouth Pavilions in Minehead, UK. The show has now been postponed until tomorrow night, The Mirror reports.
A statement released by Plymouth Pavilions said: "Peter Andre was rushed to hospital in the early hours of this morning with excruciating pains in his stomach."
The Mysterious Girl singer reportedly woke in the middle of the night in agony and was taken straight to the Musgrove Park hospital by his brother Michael, according to the Daily Star.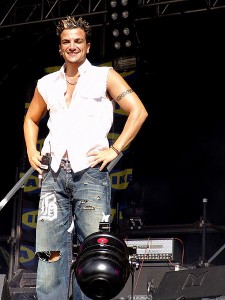 He had been staying in Taunton after a final day of rehearsals for his tour, which was due to begin last night.
The Mirror also cites the 37-year-old's ex-wife Katie Price, who broke the news on Twitter, revealing a statement was going to be released and asked: "Why does press need to know?"
Andre's manager, and head of Can Associates, Powell replied: "The reason is because he has a sell out tour starting and his fans need to know not to turn up for the Plymouth show."
But there is more to this story, the Daily Star claims. Glamour girl Katie Price, also known as Jordan, was reportedly devastated at the news of Peter's illness and wanted nothing more than to rush to his bedside. On Twitter she hinted that Andre's manager stood in her way.
"I can never get near pete there's a big barrel in the way. I can't stand the barrel its always in the way it needs to roll far away and take the evil inside with it.
In her new autobiography, 32-year-old Price partly blames Can Associates for Peter leaving her.
Andre had been subject to a series of recent health problems. In the last two weeks, he has had an MRI scan to check his kidneys, pancreas and other vital organs, as well as blood tests to try to determine the route of these problems.
He was seen bent double in pain and was diagnosed with gallstones on his Next Chapter show, the Daily Star states.
Other celebs who have recently been hospitalized include musicians Wyclef Jean and Limp Bizkit drummer John Otto, sportsmen Eric LeGrand and Christy Martin and former UK Prime Minister Lady Margaret Thatcher.
Images: Wikimedia Commons and R_Pigott on Flikr