Google doodle celebrates Jane Austen's 235th birthday
Published: December 16, 2020
The English novelist Jane Austen's 235th birthday is being celebrated today with a Google doodle featuring an image of a man in a top hat and breeches and a woman wearing a bonnet enjoying an amble in the countryside.
The figures could be of characters from any number of her books — perhaps Emma Woodhouse and George Knightley from Emma or Mr Darcy and Elizabeth Bennet from Pride and Prejudice.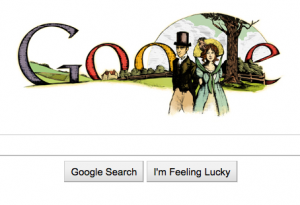 One of the most widely read writers in English literature, the premature death of Jane Austen at just 41 has long fascinated medical historians. The cause was widely believed to have been Addison's disease, a rare hormonal disorder in which he sufferers' adrenal glands cannot produce sufficient steroid hormones.
However, new readings of some of her letters appear to rule out Addisons. In a letter Austen wrote to a close friend two months before she died, she said that her "head was always clear" and that she "had scarcely any pain." As mental confusion and severe pain are symptoms usually associated with the disease, experts have been led to believe that she most likely died from tubercolosis, the biggest killer in 19th century Britain.
As with many authors, critical acclaim came largely after her death and today her fans number in the millions. Her novels have been adapted into countless Tv series and movies, as well as films, including Ang Lee's award-winning 1995 film Sense and Sensibility. In 2003 the classic regency romance novel Pride and Prejudice came second in the BBC's Big Read, a national poll to find the "Nation's best read", and just last year it fell into the hands of a literary-horror 'mash-up', resulting in Seth Graeme Smith's best-selling novel Pride and Prejudice and Zombies.
Doodles, the creative changes that are made to the Google logo to celebrate holidays, birthdays and the lives of famous people on the Google homepage, have made using the search engine a colourful and often smile-inducing experience.
Since introducing its first doodle in 1999, the Google homepage has certainly added the fun factor to searching on Google. As mentioned on Doodle 4 Google, over the years talented doodle designers have created more than 300 doodles for Google.com in the United States and over 700 have been designed internationally.
Click here to read our entertaining doodle pieces on Google turning 12 and Google celebrating the Flintstone's 50th anniversary.
And to see all the Google doodles that have graced our screens over the years, visit www.google.com/logos.
What will the creative doodle team be pulling out of their hat next? If you have a brilliant idea that you'd like to see realized, you can send your ideas or requests to proposals@google.com.
Images: http://www.google.co.uk/
Related Posts