Mad Men star January Jones shrinks down to a size two on juice diet
Published: March 04, 2020
For many actors, gaining and losing significant amounts of weight is part of the job and January Jones is the latest actress to have jumped on the size-me-down bandwagon, all in the name of cinema.
Best known for her role as young suburban housewife and mother Betty Draper in Mad Men, the 33 year old will be stepping into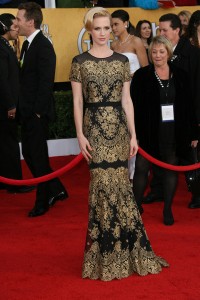 the shoes of comic figure Emma Frost in the upcoming X-Men film.
Jones will be wearing several costumes throughout the film, but she described one particularly revealing costume as being a challenge, saying: "In the comic it's pretty much painted on and she has quite an unrealistic body."
Not exactly a big girl before as a size six, the actress has dropped two dress sizes to get into character, going from slender to super skinny.
Daily Mail is reporting that the Emmy Award nominee adopted a strict diet of fresh juices and raw vegetables to achieve her diminutive figure for the role, a far cry from 2009 when Mad Men producers told her to gain weight. "They tell us to gain weight, gain weight, because they want a soft voluptuous woman which they were back then which is beautiful, as it should be," the beautiful blonde told reporters at the July party for the AMC network.
Let's hope she gets some meat on her bones again, once shooting has finished.
Read more about detoxing, vegetarian diet and raw foodism and about Hugh Jackman, who took the other extreme, bulking up with a high-calorie diet for his role in Wolverine.
Images: girlstalkinsmack.com and PR Photos
Related Posts