Stephen J. Cannell loses his fight against cancer
Published: October 02, 2020
Author and TV director Stephen J. Cannell last night sadly lost his battle against melanoma after complications arising from the illness.
The 69 year old will be fondly remembered for his smash hit TV shows The Rockford Files which starred James Garner (now an incredible 82 years old) as a maverick private investigator who could scarcely make ends meet, and The A-Team starring the enigmatic George Peppard, a reformed alcoholic who died in 1994 of pneumonia after complications attributed to lung cancer.
Indeed during the 1980s it was nigh on impossible to avoid a Cannell show, but that was no bad thing. His eye for action and drama was second to none and so many people look back on his work with a great fondness. The A-Team in particular was so outrageously over the top that it was almost cartoon-like, but it never failed to raise a "wow" or a laugh.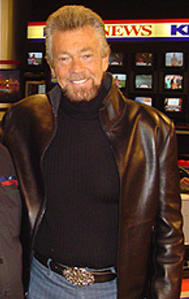 There hasn't been a producer of his ilk since and with his passing it seems there comes a void that will be hard to fill, such was his excellence in that genre of entertainment.
The front page of his website http://www.cannell.com/ bears this message today:
"With profound sadness, we have to announce that our dear friend and colleague, Stephen Cannell, has lost a brave fight against cancer. He passed away at his home last night. He will be missed beyond measure by the Cannell Team and all of us who had the privilege and the plain good luck to work with him. Through the legacy of his body of work, with which he was able to entertain and enrich the lives of millions of viewers and thousands of readers, he will always be with us, living on in our hearts and minds, with fond memories forever."
His facebook page (http://www.facebook.com/StephenCannell?v=wall) run by the Cannell Team is open for fans to leave tributes.
Celebrities who have suffered with skin cancer or melanoma include reggae legend Bob Marley, Melanie Griffith and actress Elizabeth Taylor.
Images: http://de.wikipedia.org/w/index.php?title=Datei:A-Team-Logo.svg&filetimestamp=20090318234657
http://upload.wikimedia.org/wikipedia/commons/8/88/Cannell.jpg
Related Posts